Twisted Mettle
Chaotix of Tomorrow continues!!
Final edition!! (April 20th, 2020)
The story of Chaotix of Tomorrow is not over! I know that I said that I never would create a sequal to CoT...but I had a change of heart. I have been working, together with several friends of mine on the sequal, Twisted Mettle, and this game takes place two years after CoT. Mobius is under a new threat, an even greater one this time...and this time...the Saturday Am crew, with princess Sally Acorn, is the leader!!

The original version was released on November 25th, 2008, but now, little more than 11 years later, I decided to brush off the project just like I did with Chaotix of Tomorrow. This edition too plays out like its original edition, but there are several improvements:

* 20% less enemy encounters, compensated with the same ammount of gold, EXP and item drop rewards.
* Text font has improved the same way as in Chaotix of Tomorrow and is now a lot easier to read.
* The working side-quests award about 30% more money, and the prizes at the Mobotropolis casino have improved as well.
* Easier to recruit the 50 heroes - you will recieve a warning when it will be too late to recruit any more of them, and the four hardest recruits in the original version are now *lots* easier to find. Before you get the "warning", there is no risk you'll get soft-locked (as you could in the previous edition) from getting the good ending with all 50 heroes.
* Some other bugs and touch-ups were made here and there.

This, however, not all! Today, on April 20th, exactly 25 years since the original Knuckles Chaotix was released in Japan, I have released one very final version which, except the things above, contain:

* Updated graphics.
* A couple of new cut-scenes.
* Yet another 30% increase of side-quest awards.
* 13 new heroes to recruit (all canons, replacing fan characters, as my previous edition was critisized for being too fan-based). Thus some side-plots have changed a little.
* New possibilities to recruit heroes.
* Easier to know where to go and what to do next (more advice given at the Acorn castle).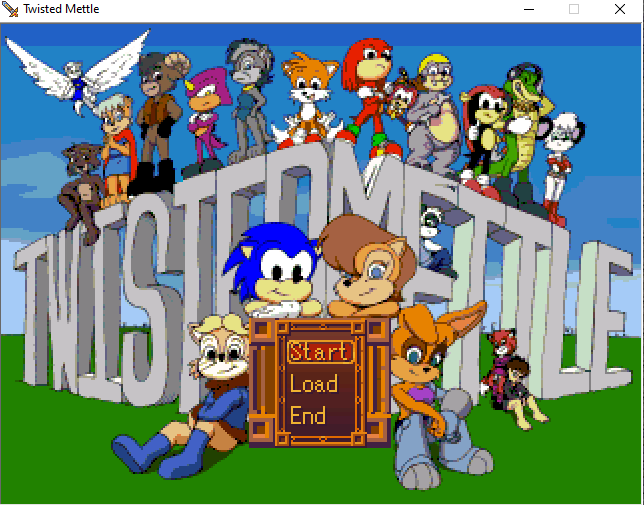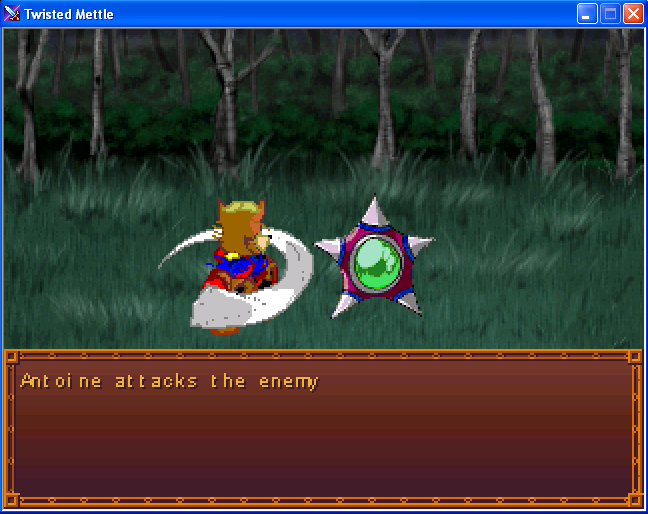 Does the name "Twisted Mettle" ring a bell, by any chance? Well, in 1996 I was working, together with a guy in South Africa, called Ablater (as well as some other people down there) with a 2D plattform game with Sally, called Twisted Mettle. I was doing the animation sprites (as unbelievable as it may sound) and it actually looked good, the project came out very nicely. However, we only managed to create a simple demo that would lock up early, and that was it. Ablater got busy and the project died, which was a great shame, as the project was quite well-spoken of in those days. And now, more than 10 years later, I really felt like bringing this project back to life, and I also got great feedback from CoT...so I decided to create a sequal! Screenshots below:


To download the NEWEST 2020 edition, which I highly recommend, click here (51 Mb). The previous 2020 edition is located here (50 Mb). If you for any reason want to play the original version (which I'm keeping mostly just for the sake of it), you need these two files, setup.zip and TwistedMettle.lzh (37Mb)
Click here to read setup.txt. Please read!!


A walkthrough to the game, containing complete information about all locations, items, bosses, heroes etc is written, but it hasn't been uploaded online because I don't want you all to get through too easy. However, by sending me an e-mail, I will send the walkthrough to over you. :)

Although Sonic, Sally, Antoine and Bunnie are the main heroes in the game, this game will be Chaotix-related as well, so fear not, Chaotix-fans. Also, there will be a lot of people hidden all over Mobius and Angel Island (and perhaps even in other dimensions, who knows...?) that could be recruited. Can you find everyone and unlock the "Prophecy of Acorns"?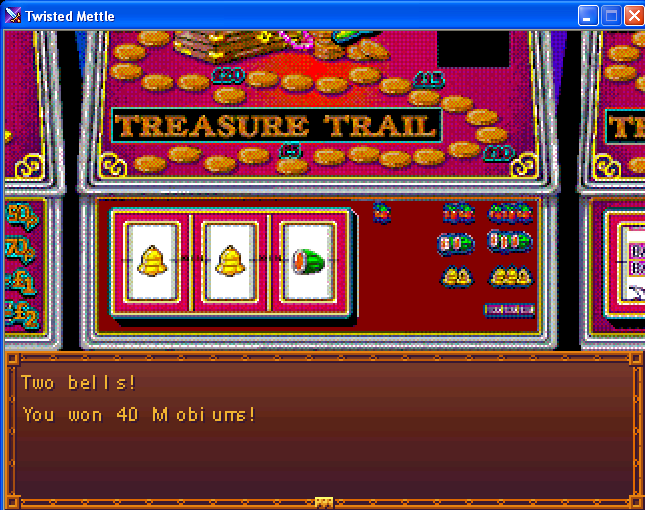 No, the last screenshot is not taken from any other game. :) Twisted Mettle also contains some mini-quests, gambling is one of them. Are you lucky enough to win the jackpot...?





If you have any questions or comments, please send me an e-mail!